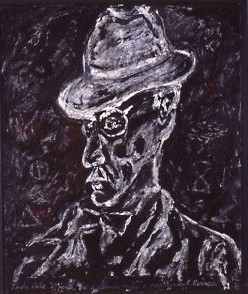 ILLUSIONARY EXPRESSIONISM:
IN TODAY'S WORLD WHERE DOES ONE'S WORK FIT?
I am continuously trying to develop and improve my work, to bring originality and purpose to it. Although I am aware of decorative quality and I am sympathetic with the artist expressing social concerns, I must insist upon visible form and content.
At this stage of my career, I find art for art's sake insufficient, and I strive to have a connection between art and social ethics. I believe that artists have a social responsibility to express through their work contemporary issues and stimulate philosophical thought.
It's time to shift the importance of the aesthetic experience from the viewer to the art object.
Although my artistic identity has been rooted in abstract and new expressionism, my images and concerns have taken on a fluency of their own. My work expresses deeper concern with the subjectivity of feeling through emotions and re-evaluation of human, historical and aesthetic values encompassed by the dynamics of modern life.
Concentrating on the human form as the ideal object-symbol I try to bring to my work a human pathos and make it an activity of consequence. By assimilating figurative traditions with abstraction and graphic symbols, I have come to classify my work as illusionary expressionism.